Sora's Haven
Welcome one and all...
It's been quite a time ago, when I once had my old page Sora's Haven Look at her now, such a pretty website... Although, it wasn't all like this, it was once on geocities, however:
Due to Geocities' policies, my poor little page got scrapped for paying customers
Well, I say, viva la revolution!!! For I have conquered the struggles of creating a new webpage, and now I am here...
And so is my page The Haven And she is still growing from a measly little kitten to a roaring lioness, so watch out as I will be starting to update constantly; below is the lowdown for the new page.
New Layout
I give full credits to the creators of this page, for without this weblayout, there would not be my page at all Sora's Haven. So, to everyone that has helped in making this page, I say, salute!!!

As for the webpage, not a lot at the moment, there will be more added later as I get more uploaded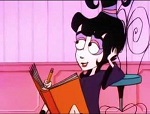 I also have a current website in the works The Lady masque Not a lot at the moment, b/c I have to remodel the page; but this page is first on the priorities and then my other page will be uploaded.
Coming soon... Main information on the site as well as multimedia to my blog as well as my free email service... So continually check in to view more updates daily...